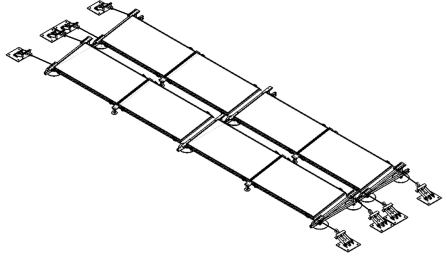 SunNet Roof is a steel cable-made mounting system for rooftop photovoltaic plants. SunNet Roof is anchored on the roof perimeter by anchorages, which offer an easy way to tension steel wire ropes. Easels simply lay (no anchored) at the center of the roof keeping steel cables lifted at the desired height. Easels of adjacent arrays are rigidly connected. Photovoltaic panels are hooked on the steel wire ropes by special hooks that speed up the installation. To facilitate the installation process, SunNet Roof is delivered preassembled with cables at the right length. Installer only unfolds SunNet Roof and anchors it at the roof.
Both structures and wire ropes are made with hot dip galvanized steel. Screws in stainless steel. SunNet Roof complies with Italian law 14/01/2008 which recommends, for safety, that photovoltaic plants stability do not merely rely on friction effect (ballast usage), but they have to be linked to the roof by stiff or flexible means. Traditional solutions with ballast do not comply with this law.
Characteristics
The fastest to install. A structure for 1kw panels, including panels, is installed in 50 minutes by one operator. Preassembled system with wire ropes cut at size is only made by 3 components: anchorages, preassembled structure, hooks for panels. SunNet Roof is installed with simple tools in only 3 steps: 1) place anchorages 2) unfold and anchor structure 3) hook panels to wire ropes.
NO Ballast. Adjacent arrays are connected rigidly with each other becoming a single stable structure. Steel wire ropes are firmly anchored and assure SunNet Roof against wind forces up to 130 km/h (80 miles/hour) without any ballast.
NO drilling of roof membrane. SunNet Roof is anchored on the roof perimeter, leaving its membrane unchanged and avoiding dangerous water leaks on the roof. SunNet Roof is the ideal solution for PV plants on flat roof.
Allows installation on roofs with static load limits. The engineering use of steel wire ropes downloads the pressure due to wind and snow on the roof edge and does not require the use of ballast.
Ultra light. With a weight of only 2 kg / m² (0.41 lbs/ft²), the mounting system is based on robust and lightweight steel wire ropes. SunNet Roof is the ideal mounting system for roofs with limited static loads.
Allows installation on arched roofs.
Safe in case of typhoons. Contrary to ballasted racking systems, SunNet Roof with PV modules stays anchored to the roof also in case of very strong wind thanks to the net structure  of steel wire ropes firmly fastened at the roof perimeter.
Offers additional remarkable earnings compared to those of racking systems with windshield. SunNet Roof allows installers to choose both optimal panels tilt and necessary panel ventilation, granting the maximum PV modules performance then additional remarkable earnings.
Additional earnings for a panel with 30° tilt versus a panel 20°-10° o 0° tilt (in Italy)

| | |
| --- | --- |
| Panel tilt | Additional earning (%) |
| 0° | 12 |
| 5° | 9 |
| 10° | 6 |
| 20° | 2 |

Additional earnings for a properly ventilated panel versus little ventilated panel

| | |
| --- | --- |
| Coefficient of temperature and power (%/°C) | Additional earning (%) |
| -4,7 | 1 – 4,8 |

NO alteration of water drainage system. Rain water reflux is not blocked, which reduces water leakages risks and membrane deterioration.
Easy to transport. Ultra lightweight, pre-assembled, compact, with all components of one array on a pallet.
Universal. Suitable for all standard crystalline solar panels / thin film. The intrinsic flexibility of steel cables structure allows SunNet Roof installation on any roof, commercial and industrial.
No maintenance. Upon installation completion, SunNet Roof requires no maintenance.
PV panel can swing like an overhead door allowing an easy and confortable access at the roof membrane (useful in case of roof maintenance).
Zero costs to dismiss PV plant. There is no ballast to dispose (labor + transport + disposal fees), there are not building works to restore the roof, no membrane roof to be restored. Our mounting system it's easy to be disposed because it's whole in steel, it's simply folded like an accordion on a pallet without disassembling it.
International patent-pending technology.
It allows the installation on metal sheet cover roofs.

Our technology is ultralight and it allows the installation of the PV system on those roofs that cannot sustain extra static loads, as for example the metal sheet ones. At the same time, the roof cover is preserved, as the anchorages are minimum, using M6 srews (6millimiters).
Applications with NO limits

Flat roof

NO membrane drilling
NO ballast
Anchorage only on the roof perimeter
Suitable for roofs with limited static load

Support structure for photovoltaic panels made of steel cables on flat roof- no drilling the roof membrane, no ballast, anchorages only on the roof sides, ideal on roofs with limited static load

Cupola roof

NO drills of cupolas
NO cupolas removal
NO ballast
Anchorages only on roof perimete

Support structure for photovoltaic panels made of steel cables on cupola roof- no drilling the cupola, no removal of the cupola, no ballast, anchorages only on the roof sides

Arched roof

NO roof drilling
NO ballast
Anchorages only on roof sides

Support structure for photovoltaic panels made of steel cables on arched roof- no drilling the roof membrane, no ballast, anchorages only on the roof sides