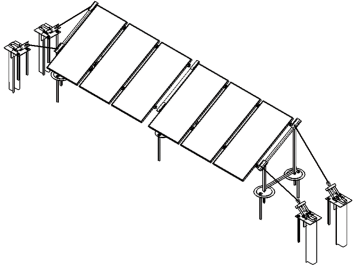 SunNet Ground is a steel cable-made mounting system for ground photovoltaic plants. Steel wire ropes are anchored at the extremities by anchorages that offer an easy way to tension steel wire ropes. Easels are anchored at the ground and keep steel cables lifted at the desired height. Photovoltaic panels are hooked on the steel wire ropes by special hook that speed up the installation. To facilitate the installation process, SunNet Ground is delivered preassembled with cables at the right length.
Both structures and wire ropes are made with hot dip galvanized steel. Screws in stainless steel.
Characteristics
Land preparation and soil leveling are drastically reduced. Because its flexibility, the tensile structure is easy to adapt to land profile, so it doesn't required GPS or Laser Point machine to be installed.
Geological Analysis is drastically reduced because it needs to be done only at the extremities of long arrays.
Ramming machines usage is drastically reduced because it needs to be done only at the extremities of long arrays. The use of a simple hammer or pneumatic drill is sufficient to quickly stick into the ground our stakes. No qualified operators are required. The presence in the ground of big stones is not an obstruction for the applications of our tensile structures. The stakes, as chisels, breake the stones. With preventive drilling, the tensile structures can be adopted even on the rock. The anchorages to the ground use:

screw pillars only at the end of the arrays ( they can be 150-200 meters long, 163.5 – 218.03 yd)
stakes for central part of the array

Reduced anchorages depth. It's an ideal application wherever foundations depth is limited, i.g. archeological area, landfills, quarries.
Fast to install. A structure for 1kW, including panels, is installed in 40 minutes by two operators. Preassembled system with wire ropes cut at size is only made by 3 components: anchorages, preassembled structure, hooks for panels. SunNet Ground is installed with simple tools in only 3 steps: 1) install anchorages 2) unfold and tension structure 3) hook panels to wire ropes.
Easily adaptable to the contour of the land. NOT require machines with GPS or Laser Pointers to install anchors.
Ultra light. With a weight of only 2 kg / m² (47.5 lbs/ft²), the mounting system is based on robust and lightweight steel wire ropes.
Easy to transport. Ultra lightweight, pre-assembled, compact, with all components of one array on a pallet.
Universal. Suitable for all standard crystalline solar panels / thin film. The intrinsic flexibility of steel cables structure allows SunNet Ground installation on any land profile.
The tensile structure is flexible; It's personalizedand designed depending on snow and wind zone.
Proved resistance to wind forces (dynamometric tests).
No maintenance. Upon installation completion, SunNet Ground requires no maintenance.
Zero costs to dismiss PV plant. Our mounting system it's easy to be disposed because it's whole in steel, it's simply folded like an accordion on a pallet without disassembling it.
International patents filed.
Applications with NO limits
Landfills

Support structure in steel cables for photovoltaic panels on landfill
Quarries (vertical walls)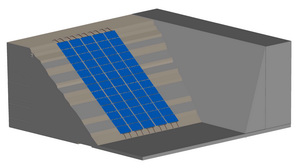 Support structure in steel cables for photovoltaic panels on quarry walls
Vineyards / Orchards
Ground mounted plants