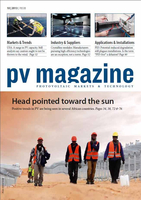 Mounting system industry: Competition among mounting system makers is inspiring more engineering efforts to drive down costs while generating better structures. Companies are pursuing multi-pronged strategies to survive.
Less metal, fewer parts
Among other recent design changes that embrace the trends of less metal and fewer parts, A+ Sun Systems' SunNet design drastically cuts metal volume by utilizing wire rope for most of the structure of its ground or roof mount systems, lines of which can extend up to 200 meters. "The weight is only half of what a traditional metal frame system would be," says Alberto Di Gaetano, the Managing Director of the company based in San Bonifacio, Italy. The company suggests that a pre-assembled 1 kW system can be installed in 40 minutes by two workers.
Niche market designs
A+ Sun Systems' SunNet design also could be used in landfills or in very steep locations – like the side of a vertically-oriented silo or tank – where only the ends of the wire rope runs need to be secured to the ground, Di Gaetano points out.
LINK: www.apsunsys.com/files/apsunsys.com/2013-10_pv-magazine_article.pdf
https://www.apsunsys.com/wp-content/uploads/1310-picture.jpg
200
141
apsunsys
https://www.apsunsys.com/wp-content/uploads/2019/02/apsunsys.png
apsunsys
2013-10-11 11:38:33
2019-03-29 09:12:48
Ratcheting up competition