Striving to meet different customers' needs, A+ Sun Systems offers the following services:
Engineering support. Our engineers are available to solve any structural issue of your PV plants, among them:
Structural analysis of the entire building
Analysis of concrete used in the building
Structural test of the building
Certification of each mounting system with signature of the engineer.
Product optimization. Our engineers adapt our mounting systems in accordance with customers' needs in order to optimize both performance and cost. To optimize our products application, we make structural analysis using Finite Element Models and aerodynamic models.
Preassembled structures. To speed-up mounting system installation, our products are delivered already preassembled and of the right size, ready to be simply open and anchored.
Geotechnical support. We offer geotechnical analysis of land to leave nothing to chance.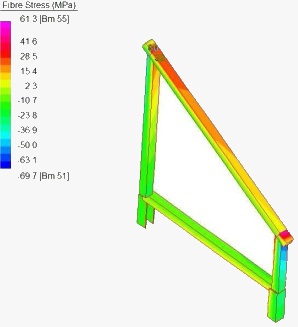 Support structure in steel cables for photovoltaic panels
finite elements structural analysis


Support structure in steel cables for photovoltaic panels
fluid dynamics analysis