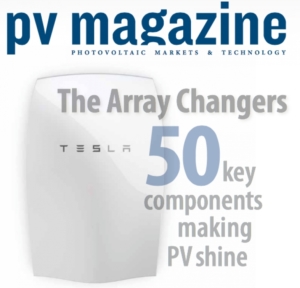 In booming PV markets it has been observed that the more straightforward locations are invariably the first to be developed. Rep- resenting the low hanging fruit, it leaves behind more difficult sloping land for ground- mounted arrays or more straightforward flat- roof and curved roof commercial applications. Italy's A+ Sun Systems believes its tensile- steel-wire-rope solution can be applied to such difficult locations in a cost-effective way. The SunNet Ground employs the tensile-rope solution in a way that the company claims reduces the need for expensive soil and site analysis and does not require the use of GPS or laser point equipment.
---
"Tensile structureis a very smart system," says Shin Morimoto, the CEO Copia Energy, which has applied A+ Sun Systems' tensile approach to mounting structures.
The company, based in San Bonifacio in Italy's north, has supplied three pilot projects in Japan. Working with local EPCs, A+ Sun Sys- tems has supplied one flat roof project with its SunNetRoof system, and two ground-mounted projects on sloping ground.
A+ Sun Systems claims that the use of ram- ming equipment is not required through the application of the SunNet Ground, as the anchor points employ micro piles requiring only light pneumatics drills for the installation. The anchor points employ screw pillars that can be at the end of a 150 to 200 meter row. Beyond that, hammers and pneumatic drills are all that is required for the installation of the PV system.
"A+ Sun Systems' solar tensile structure is made in flexible steel cable and micro piles," says Alberto Di Gaetano, a spokesperson
for the company. "This makes it suitable for hilly lands and sloping ground. What's more, unskilled operators are sufficient to use a jackhammer and install a tensile structure. This overcomes the big lack of skilled labor in Japan."
The range of A+ Sun System mounting sys- tems, suitable for the burgeoning rooftop mar- ket along with ground-mounted applications, come pre-assembled and at 2 kg/m2 (0.41 lbs/ ft2) are lightweight when compared to more common steel or even aluminum structures.
A+ Sun Systems' tensile-steel-wire-rope solution SunNet Ground can be applied to difficult locations without using ramming equipment.
A+ Systems says its engineers are available to consult to and support EPCs and installation firms. The range of A+ Sun System solutions are patent pending.
LINK: http://www.apsunsys.com/files/apsunsys.com/pv-magazine_06_2015.pdf
https://www.apsunsys.com/wp-content/uploads/news-08-07-2015.jpg
740
770
apsunsys
https://www.apsunsys.com/wp-content/uploads/2019/02/apsunsys.png
apsunsys
2015-07-08 13:49:42
2019-02-25 18:12:52
A+SunSystems al 7° posto della classifica di PV magazine per sistemi di montaggio innovativi